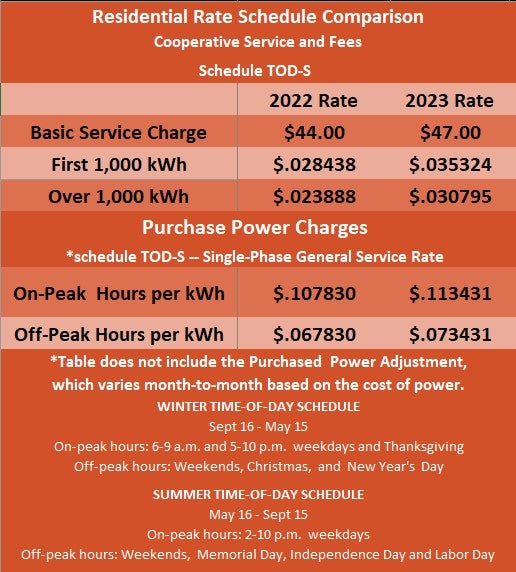 At your not-for-profit North Central Electric Cooperative (NCE), our goal is to deliver safe, affordable, reliable electricity to our member-owners. Therefore, our rate structure is designed to reflect the co-op's delivery and power supply costs. Unfortunately, NCE is not immune to the rising inflation and supply chain issues we have all been experiencing over the past several months.  Therefore, this consideration, as well as the increase in costs to maintain and the cost increases from transmission companies, has necessitated a rate increase. 
As with every year, the cooperative conducts a cost-of-service study to ensure these costs will be covered, allowing us to continue providing safe, reliable power at an affordable rate.
What is the "basic service charge?"
Members pay the basic service charge regardless of how much electricity they use each month. This fee offsets some of the fixed costs of providing electric services, such as the cost of poles, wires, transformers, and other necessary equipment. The basic service charge allows the cooperative to keep pace with the cost of ongoing maintenance and replacement of its 1,793 miles of distribution lines.
Saving money through Time-of-Day
In addition to monitoring overall usage, you should familiarize yourself with the Time-of-Day schedule and peak hours (www.ncelec.org/time-day-schedule).  As a member of NCE, you know how to make smart energy choices that help you save money. However, when you use electricity can be just as important as how much you use.
Throughout the day, energy use fluctuates based on consumer demand. Typically, households use larger amounts of electricity in the morning when most people are getting ready for their day, and in the evenings when people return from work, cook dinner, wash clothes, and watch television.
These times, when people are using more electricity at the same time, are called "peak" hours. The cost to provide power is higher during these times because of the additional demand for electricity. NCE's peak times are 2-10 p.m. on weekdays during the summer (May 16 through September 15), and weekdays from 6-9 a.m. and 5-10 p.m. during the winter (September 16 to May 15).
By shifting some of your energy use to hours when demand is lower, known as off-peak hours, you can save money on your energy bills and help keep rates lower for our community.
Here are a few easy ways you can shift energy use to off-peak hours:
Wash full loads of clothes in cold water during off-peak hours.

Run the dishwasher right before you go to bed, or air-dry dishes by opening the dishwasher instead of using the heated dry cycle.

Turn off lights and electronics when not in use.

Use smart devices to schedule running during off-peak hours (washers, dryers, dishwashers, etc.)
Coming rate adjustments
Beginning with the February 2023 bills, the basic service charge will increase by $3.00, from $44.00 to $47.00.  In addition, the per kWh rates will also increase to more accurately reflect the expenses incurred from the generation, transmission, and distribution of electricity.  (See new rates in the table.)
The board of directors concluded that these adjustments are necessary due to forecasted lower electricity sales, drastic increase in inflation, the increased costs associated with needed system maintenance and improvements, rising costs of fuel to generate electricity at our not-for-profit power plant, and everyday materials to maintain the system.
Additionally, the Purchased Power Adjustment, which is the per-kilowatt-hour charge and changes monthly based on several factors including the cost of fuel and environmental controls charged to us by our electricity generator Buckeye Power, is expected to rise.
In the end, average use consumer members can expect approximately an 8.35% increase on their total bill.  This will vary based on the on-peak and off-peak usage and actual kilowatts used per member. 
To see if there is a way to save energy, don't hesitate to get in touch with our energy advisors by calling the co-op during regular business hours.  To track your usage, please utilize the SmartHub app located on our website or available for your smartphone.  More info here: www.ncelec.org/smarthub.